Hello!
Megan here with a quick tip for combining your stamp sets. I love combining my sets in different ways to create unique looks. One of my new found favorite techniques is masking. At first it can seem intimidating, but a few tips can really help out!
I wanted to add some texture to these shoes from the Sassy Shoes set to give them a bit of pizzazz. I pulled out the Timeless Textures set and chose the music texture because it had an intricate pattern that would work in my small spaces.
After stamping the shoes on plain printer paper, I cut out the sections that I wanted to stamp with the music, using my craft knife. I use plain printer paper because it is thin. Some people use post-it notes, which are nice because they already have the removable adhesive on the back, but printer paper is larger and cheaper and I have a bunch of it lying around.
Initially, I stamped the shoes randomly like you see above, thinking that it wouldn't matter, but I had a tough time keeping the ink from the music stamp JUST where I wanted it, so I re-stamped them in the center of a larger paper. It doesn't matter that they are stamped the way they are going to end up on the card. You could work with just one, and then the other.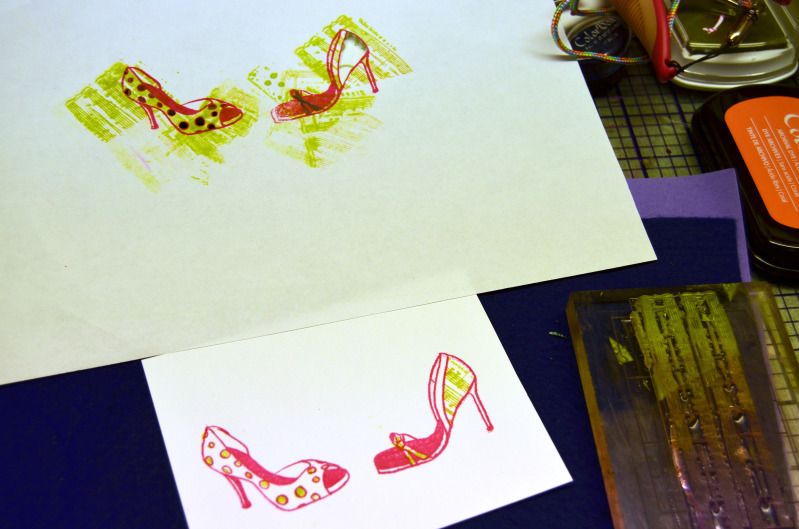 You can see from the green ink leftover on that scrap paper that I didn't just press the stamp one time over each shoe. That is what you would probably do for a larger area that you were masking, but since my areas were SO small, I wasnt getting a lot of contact between the stamp and the paper beneath the itty bitty holes.
Basically, my tiny areas were all in the 'halo'. That's what I call it when I mask and there's a tiny gap between the stamped image and the edge of the mask, due to the width of the mask. One thing that I find to help with that is the thinner paper. Another is to use a softer stamping surface. You can see here that I have a piece of purple foam, covered by a piece of darker purple felt. Usually, I used the purple foam as my stamping mat, but I added the felt for this project to get less 'halo'.
Finally, what I ended up doing for the tiny dots, is using the corner of the stamp and really jamming it in there.  It sort of distorts the pattern a little, but in an area that small, it doesnt really matter. I just kept inking that one corner and stamping over each dot and part of the bow.