New "Sassy Shoes" are here today, we are having a blog hop to celebrate their release!!

 Celebrate friendship with the help of "Sassy shoes" are our newest and sassiest stamps yet…
In honor of our newest release we are having some VERY SPECIAL SAVINGS……  Buy ANY3 stamp sets and get one FREE.  This works if your double it( buy 6 get two free) and yes we have even had people triple it (buy 9 get 3 FREE).  Any way you look at it, it's a GREAT DEAL!!!  Just enter ONE FREE  at checkout time.
If you have any trouble with the savings codes or abnormally high shipping charges ( we are working out some bugs) just email me your order @ madebyme33@hotmail.com  I will throw in free shipping for your troubles with the codes or the shipping charges.   
Now for the Amazing Daneille Flander's sketch of the week: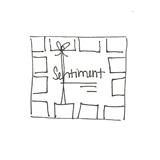 I cheated a bit on my interpretation but I thought it followed the heart of the sketch design.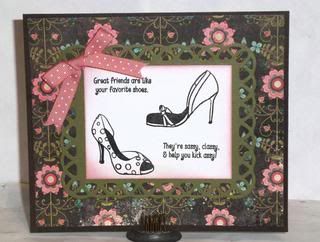 If I have more time I am going to go back and cut our the shoes and color them with tombow markers.
Below is the blog hop order:
Be sure to hop along and leave comments on all the fabulous designers blogs.
You are here @ Skipping Stones Design.  Next you should go to Danielle's blog:
Danielle Flanders…..http://danielleflanders.blogspot.com/
Amy Tsuruta…http://tsurutadesigns.blogspot.com/
Wendy Price…http://paperinkandsmiles.blogspot.com/
Jennifer Ingle…http://justjingle.blogspot.com/
Brenda Weaver…http://sweetpapertreats.wordpress.com/
Gladys Chia…http://gladyschia2010.wordpress.com/
Wendy Jordan…www.papertherapy-wendy.blogspot.com
Kandi Phillips…http://kraftykandikrafts.blogspot.com/
Barb Turpin…http://barbsboys123.blogspot.com/
Tammie Beaton…http://alwaysinking.blogspot.com/
Ann Kranitz….http://stampwithme-ann.blogspot.com/
Don't forget to  participate in our sketch challenge this month. The winner of this week's sketch challenge will win a shiny new SSD Stamp set!!
<!– start InLinkz script –>
<script type="text/javascript" src="http://www.inlinkz.com/cs.php?id=54279″></script>
<!– end InLinkz script –>