Hello Bleeps (That is short for blog peeps~I think)
We are sending out a big hug and huge thanksto all of your who have place bids, and purchased stamps, to help in our efforts to raise money for the KOMEN foundation.

To those of you who haven't been able to participate yet there is still plenty of time!!!!!
Blogs 4 boobies is still going on!!!
For EVERY stamp set sold between now and (midnight) Thursday the 23 we will put an extra $2 in the donation pot.
Card auctions end Thursday night the 23rd at 8:00 p.m. Mountain time.
So there is still plenty of time to bid and take home a card from you favorite designer!
We do have one more designer who has an amazing card that you might be interested in.
Dina Kowal~ a recent guest of ours created this beauty: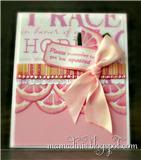 Click here to place a bid.
Here are the list of the amazing designers who have cards up for grabs.  You may need to go back a few days in the blog, but it is well worth the effort to see the amazing creations and goodies up for auction!!!
Day one (Wed. Sept 15th) Participants
Day two (Thus.  Sept 16th) Participants