Introducing: Belinda Chang Langer
It is my great pleasure to introduce you to our new Sketch artist for the month of February.  Belinda Chang Langer has a incredible paper-crafting blog called Bell Blue Paperie. Click here for her site
I fell in LOVE when I saw her style and versatility.  I was so excited when she agreed to be a guest this month!!!! I know you will all find inspiration her projects and sketches. Here is her first sketch and the DT's take on the sketch. 
 Please feel free to comment, give Belinda a warm welcome.  There is the mention of blog candy on a post from yesterday.  I will be accepting comments on that post as well as this post and will be randomly selecting a winner by Saturday. Sunday I will announce the winner of Gray Hares! 
Here is
Belinda's sketch SSD0010

I think we all had quite a bit of fun with it on the D.T..  We know you'll have fun if you use it to make a card, Layout, or project. I personally want to use this for a one photo layout, if I get the time to scrapbook in the near future that is.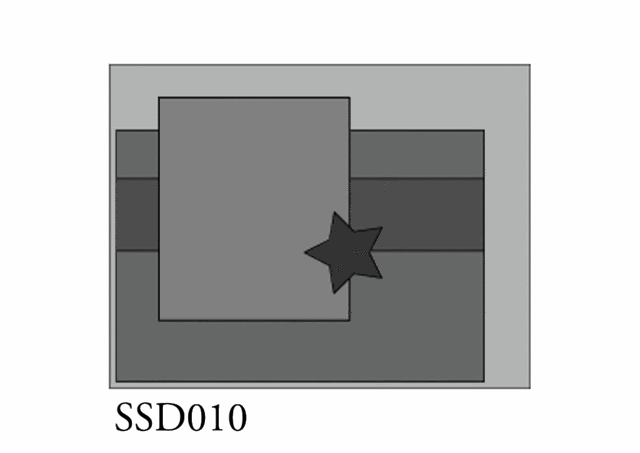 Here is Belinda's take on the sketch.  I apologize that it had taken me so long to get it posted.  This has been a wonky week.  I love this card! She softened the corner on one of the edges, and it gave a whole new twist on the sketch!
Ok technical difficulties…it will be up shortly
This one is From Angela Thomas.  Gotta love the embossing, and the colors she chose! She colors the image in such a way that it pops out, and is the first thing you see about the card!
OK so I mentioned a new set called "Gray Hares".  This is a card I made with that set, and Belinda's sketch.  This is also the blog candy that I hinted about above and in yesterday's post-Wink Wink!!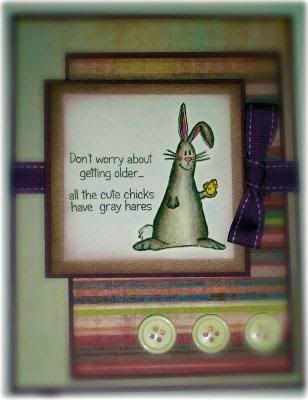 This Card is an amazing cration by Mary G. She added color and flowering lines to the shiloete stamps from Dandelion dreams!  I though that was a very cool idea.
Here is a closeup!!!
Here is Erin's card made withthe same stamp set released just last week. She did a beautiful job with the background colors- brayered them I think
Shown Below is the complete set used to make both of the above cards.
This week only Dandelion Dreams  will be on sale for $11.99 each.  While supplies last, or untill next Tueday.
It has been amazing to watch Chelsea's growth as a card maker.  This is my favorite card of hers so far!!! The colors, the bedazzled star the glassy looking Martini- it all ties together So nicely!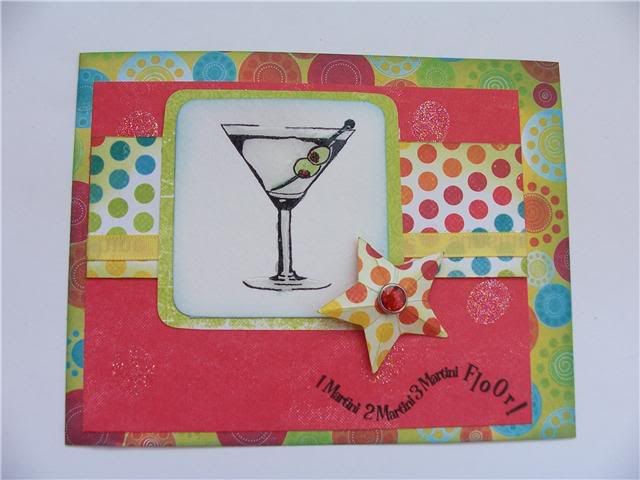 If I didn't know better I'd think Kandi and Chelsea coordinated stamp sets and colors:0) I Love the colors, and how Kandi made the inside of the olives stand out.  The Ribbon adds the perfect touch!  Plus she used one of my favorite background/design elelment stamp sets that I believe is almost sold out in the store. 
Michelle was rockin out with the "garden kiss stamp set" I love how she used the textures and the backgrounds seperpately.Very Nice!!
Here is Peggy's Elegant card. I didn't know that one could make a cupcake look so proper and yummy at the same time! I am amazed at the beautiful sticking on the sides.. I need to find someone to teach me how to do that .  I couldn't stitch in a straight line if my life depended on it. Lovely job Peggy!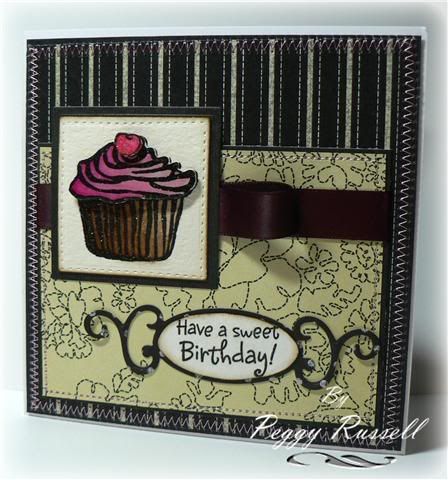 Tuesday February 16th we will launch our "Hop(e) for Haiti.
Where we can all work together to help raise money.  The money will be donated to the Red Cross to help those still struggling to get basic needs met after surviving the Earthquake of Haiti. 
During the following week you will have a chance at winning fabulous prizes-prerealsed stamp sets, as well as bidding on some fo your favorite artist work.  100% of the proceeds of the auction will go to the Red Cross . Please check back often for updates.
Thanks so muc for stoppin' by,
Heather