Due to popular demand It's Back! ~4 days only!!!!
P.M.S. sale~ the more you buy the more you save!!!!
P.M.S.~

in this case~suffering from the NEED to

Purchase More Stamps

!
Here is how it works: 
Buy 1 stamp set  save 5%, for a total of .73cents savings.                           Coupon code: PMS1
Buy 2 stamp sets & save 10%, for a total of $2.90off.                                     Coupon code: PMS2
Buy 3 stamp sets  & save 15%, for a total of $6.54 off.                                     Coupon code: PMS3
Buy 4 stamp sets & save 20%, for a total of $11.60 off .                                   Coupon Code: PMS4
Buy 5 stamp sets & save 25%, for a total of $18.10 off.                                     Coupon Code: PMS5
What to do:

Put the stamps into your shopping cart as normal. When you are checking out

there will be a box where you can type in a coupon/discount code.

  This is where you type the letters PMS and the number of stamp sets you purchase.  For example if you are buying three stamp sets type in PMS3 into the box.
*This sale will last until Saturday May 1st at midnight
1 Fabulous sketch & 3 more on the way!!!
Here is this weeks sketch from the amazing Jen Del Muro: read more on her just below the sketch!
Jen Del Muro is one of 3 Amazing new guest with us for the month of May!!!
If you think the name Jen Del Muro sounds familiar you are not alone.  Jen is the creative mind behind I heart to stamp blog!  She inspires countless card makers with her site on a weekly basis.  Her publication resume is longer than my arm…and I have long arms!  The more of her work you see, the more you understand how she became a household "stamping name".  Her style is fresh, fun, and totally irresistible!!! We are So VERY EXCITED to have her as our guest Sketch artist ALL MONTH LONG!!!!
Here is her card based on her first sketch. For her card this week she combined Cupcake Cutie with fun, fresh, colors for an irresistible result!

 Our next guest is such an inspirational designer. Deb Felts is the creative force behind "The Daily Dare" and "With a stamp and a Song". Like Jen she is also well known in the world of paper crafting.  She has a unique and breathtaking style. Every Time I see one of her cards I literally say WOW! I am So excited to have her with us ALL MAY LONG!!! I know after you see her card this week you'll agree!
She started with the sketch added  Well Behaved (special addition) and Cosmo Cricket's Material Girl and well…..WOW!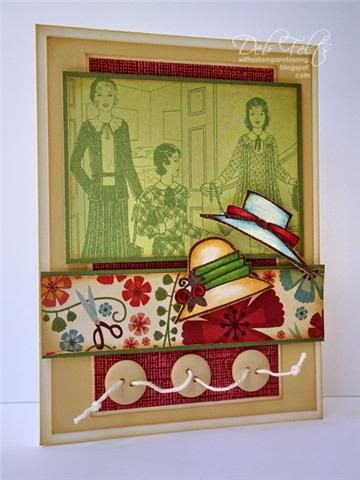 Next we have Jennifer Ingle of Just Jingle.  She has an amazingly crafty blog, and a whole heap of talent.  We have a very funny friend in common ~Susan Hankins~ and are both former Coloradans. The first thing you notice about her blog is that she is upbeat and has a great sense of humor.  Then you get a peek into her creative mind and you are hooked ~ a "Just Jingle Junkie"!  
Her card recipe for the week consist of : "Healing Wings", gorgeous patterned paper, and a stroke of pure, creative, genius.  She used a page from "The Open Road" as patterned paper, and was also able to use the book's title to echo the card's sentiment.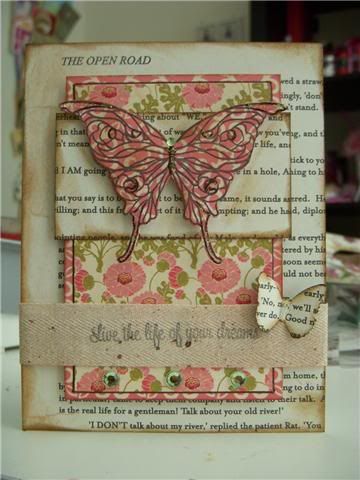 Now here is my favorite Creative Crew, the always amazing, Stamp Tramps!  This week the've got some cards that will inspire your own sparks of creative genius!
Peggy Russel / Healing Wings

Kandi Phillips/ Healing Wings
Michelle Giraud /Buns and Crunches
Angela Thomas~We are so glad to have you back!~ Margarita Birthday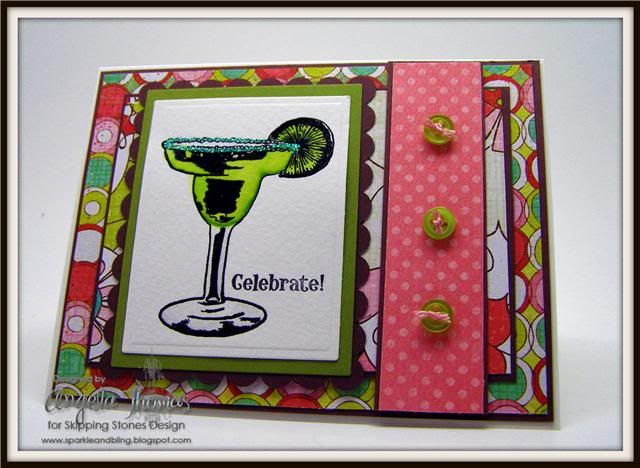 Chelsea Van Wyke/Land of the Brave~sneak peek~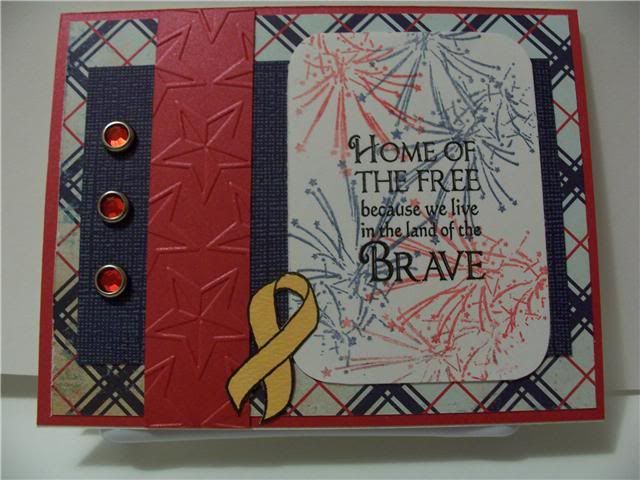 Amanda Sewell/Tough Guy
Come back next week where you will meet a New Skipping Stones Design Artist.  Also you'll be treated to a "first look" at a Hilarious New  stamp set!
Until then, Happy Stamping!